Monday, February 6, 2017 - 5am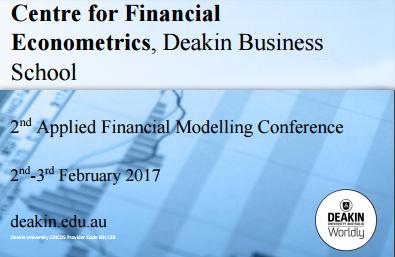 At the recently concluded 2nd Applied Financial Modelling Conference held at Deakin University, Melbourne Australia, Islamic finance conference tracks were dominated by SDSB professors.
The conference was hosted by the Centre for Financial Econometrics on 2nd and 3rd February 2017. The conference has become one of the leading finance conferences of the Australasian region and is supported by 4 ABDC (Australian Business Deans Council) A journals. Thirty-nine research papers were presented at the 2017 conference.
Four papers on Islamic finance were discussed and presented at the conference. Out of which, SDSB professors co-authored three papers:
1. Persuasion in Islamic Finance
Dr. Saad Azmat (LUMS), Ms. Haiqa Ali (LUMS), Dr. Kym Brown (Monash University), Dr. Michael Skully
(Monash University)
2. Do We Need Bigger Islamic Banks? An Assessment of Bank Stability
Dr. Mansor Ibrahim (INCEIF), Dr. Syed Aun R. Rizvi (LUMS)
3. Risk in Stock Markets: A Comparative Analysis of Systematic Risk in Islamic and Conventional Sectoral
Indices
Dr. Syed Aun R. Rizvi (LUMS), Dr. Shaista Arshad (University of Nottingham)